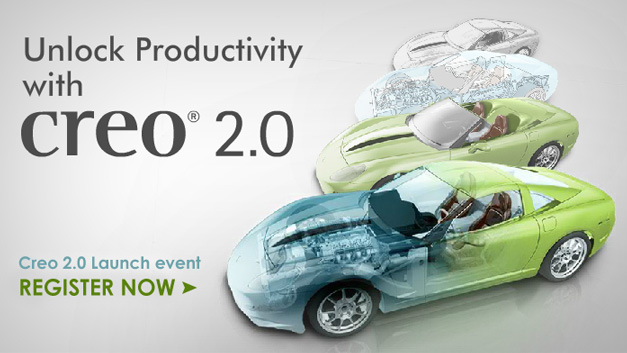 You're Invited
Creo events are popping up all over the globe… now's your chance to see it live in action.
Unlock productivity with Creo 2.0! Creo 2.0 helps companies unlock potential within their organizations by making people more efficient, enabling better data sharing and design reviews with customers and suppliers, and preventing unforeseen service and manufacturing issues.
This Creo 2.0 launch event is designed for every skill level. Whether you're new to PTC software or a seasoned user looking to learn more about Creo 2.0 – we guarantee you'll be glad you attended! Not only you will find out what's new in Creo 2.0, you will also find out about Creo maintenance updates, product showcases and see a live custom Creo 2.0 demo.
This free half day workshop will be a great networking opportunity to meet up with the experts from this industry. PTC Director of Mechanical Design Solutions, Mr Greg Brown, will be there to share his experience on Creo 2.0.
"Creo Named 2011 Product of the Year" – NASA Tech Briefs
Date: 1:00pm-5:00pm, 20th June 2012 (Wednesday)
Venue: Hotel Equatorial, Grand Ballroom
Address: 1 Jalan Bukit Jambul, Bayan Lepas, 11900 Penang, Malaysia
Agenda Includes:
PTC Corporate Strategy & Update
What's New in Creo 2.0
Latest Hardware Updates
Creo Maintenance Updates
Windchill Roadmap: Do More, Know more, Get More

Important Info:
Kindly present your email confirmation during registration, and note that walk-in attendees will not be entertained
Coffee break will be provided
Event is designed for all level skills
Registration is free of charge
Registration limited to two per company
Kindly RSVP by 15th June, 2012
PD Solutions reserves the right to the final decision regarding all registration matters.
Register below to avoid disappointment. 
REGISTRATION IS NOW CLOSED