Software for product design and manufacturing is one of the largest stand-alone software segments. A wide range of electronics, aerospace, heavy machinery, consumer product, automotive, and medical device companies spend about $5.5 billion annually on software for product design and manufacturing. And it makes sense, since companies in these industries remain under pressure to accelerate time-to-market, reduce costs, and improve product quality.
Parametric Technology (NASDAQ: PMTC) is the third largest vendor in this category of software, with annual sales approaching $1 billion, and a global market share of roughly 18 percent. PTC's primary competitors are French-based Dassault Systemes (DASTY) (Paris: DSY), and Siemens PLM Software, a division of the giant German industrial conglomerate.
PMTC has been experiencing recent strength in its software for product collaboration, which it calls Windchill. Windchill, in a nutshell, allows engineers, product designers, and manufacturing personnel to work in teams to create new products, and communicate throughout the globe. PMTC's recent Windchill wins at Nokia (NOK), Volvo Automotive, Otis Elevator, Lenovo (LNVGY) (the former PC division of IBM), GE Medical Systems, and Cummins (CMI) bode well for the company as it enters 2010.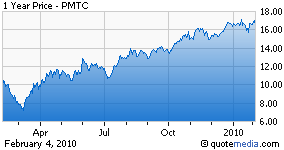 PMTC's product sales growth rebounded very nicely, 48 percent year over year in the quarter ended December 31. The company's gross margin rose from 66 percent a year ago to 71 percent, attesting to the rebound in product sales. In particular, the company's Windchill product collaboration suite had a strong quarter, with major victories at GE Medical Systems and Cummins—both of which chose to switch over from their existing collaboration systems. Though the number of $1 million-plus deals rose from nine to 10 in the last quarter, PMTC's average order size for such deals almost doubled from $2.7 million a year ago, to $5.0 million. PMTC continues to make progress in a series of major accounts that it describes as "dominos." These are large industrial manufacturers who are considered leaders in their industries and remain under pressure to deliver innovative products to their customers. Having already closed on 11 of the 12 domino accounts that it originally set its sights on for 2010, the company raised the goal to 15 for the year. At the same time, PMTC is in the midst of seeking to unseat its competitors at more than 200 accounts world-wide.
And while SAP (SAP) and Oracle (ORCL) continue to evaluate their options in the product design software markets, PMTC's global customer base, which is comprised of over 1,000,000 maintenance-paying users of its software, represents a significant barrier to those who may wish to serve this market.
Source: Seeking Alpha